Anyone who is or isn't spiritual is subjected to the word meditation very often lately. Even doctors now recommend meditation and think it's the only way to deal with stress.
When we investigated, thousands of meditation techniques, breathless, breathless, light meditations, meditations with colors and many other kinds of techniques… It's a mess. Naturally, you can get confused. So what is meditation really and where to start? What does it mean and what is its purpose?
I'm going to talk about the essence of meditation here. In all cultures, the essence of meditation is the same, and without constantly applying it, it is known that images cannot be successful. It's worth studying all you know about meditation by putting it aside because the basis of meditation is one. In every spiritual teaching, sufis, taoism, zen (zazen), paganism, Buddhism, these techniques do not change, they are common.
In fact, the vision-based studies that we receive and call meditation are not exactly the essence of meditation. These are vision studies that can be applied after applying basic meditation. Meditation is a word derived from the Latin word meditatio, and that means reviewing something, thinking about it. So basically what we call meditation is deep thinking (which is essentially "not thinking mentally") and in mystical terms it is referred to as contemplation. So it's deep thinking that happens without thinking about anything. It might confuse you a little bit, how can you say we're thinking of something without thinking about it? That's what we need to address.
First of all, in meditation, the mind is emptied and it is necessary to learn to empty the mind. When you clear the mind, you reach deep peace and awareness. At this very moment, just as you come into contact with this deep essence, a flow from your soul to your consciousness, an enlightenment, an awareness flows and you gain an awareness of life – awakening and a clear vision. Contemplation here, deep thinking, is not a "philosophical inquiry." Here the mind is purified. So to speak, if we accept glass as a mind, you clean the dirty glass and follow the truth beyond the clear glass. When the glass is dirty, when thousands of thoughts are in our brains, we cannot look at the truth, when the glass is cleaned, then we can watch what is beyond the glass. This is the process of touching the truth beyond the mind, at which point you are not only "intervening" or "judging", but only "observer", that is, the spiritual essence.
Believe me, his practice is much easier than his philosophy… You can read thousands of books about meditation, but without meditation, you can't comprehend what's going on. Words to describe this method are incompetent… So without further ado, I'm moving on to basic meditation, the technique of emptying the mind.
How to do meditation?
Pre-preparations in meditation
If you are just getting used to meditation, pre-preparations are very important. Paying attention to the following points helps to start meditation:
Don't meditate when you're too full. Energy will focus on that point and it will be difficult to purify the mind.
A warm shower before meditation will be fine.
You must have comfortable clothes on.
Lighting a candle and incense is very useful as it increases concentration and prepares the appropriate environment.
You should not be disturbed, if possible turn off your computer and phones, close your door and create a comfortable environment.
I recommend drinking green tea before meditation. Green tea both gives peace of mind, increases concentration and prevents sleep, thus making meditation quite easy. Buddhists surely drink green tea before work to ensure all this.
You can listen to music. But it's important that the music is not moving, but serene, and especially if you're at the beginner level, it's definitely nonverbal. You can use nature sounds if you want. I don't prefer music because I'm not an auditory person. It's entirely up to you.
The environment of the room is quite important; It should be warm, comfortable and neither too light nor too dark. It should be a distraction.
Breathing through the diaphragm is very important in meditations. The right breath is the right meditation. Rhythmic and correct diaphragm breathing should be taken.
Meditation positions
Two very important points when meditating; The back and body should be upright and 90 degrees. There must be a position that will disturb you.
Initially you can do it by sitting in the chair and lying down if you are sure you will not sleep. Feet and hands are parallel, should not be bound. Especially if you did it by sitting in a chair, the feet should be firmly on the ground. If you're going to do it in a cohesive way, make sure the back is 90 degrees on the ground, it's important to stand upright, not hunched over, and make sure you get a cushion underneath. Your meditation position should be comfortable.
You can also stand in a lotus position or semi lotus position, especially if you have a flexible leg structure. The seating position below is also preferable;
Hand Position
During meditation, hands can be swinging and comfortable. But he usually uses Dhyana Mudra (meditation mudra), which you can come across in buddh's meditative sculptures. [Mudra; finger yoga. Includes various hand gestures. Contacting fingers differently is based on the philosophy that triggers different energy currents in the body.] Dhyana mudra is the basic meditation mudra and allows the formation of an energy circle with hands and arms closed. Gertrud Hirschi's Healing with Mudras is described as:
"The hands, shaped like bowls, represent that man is keeping his insides empty in order to get what he needs in peace, on the bee and spiritual path."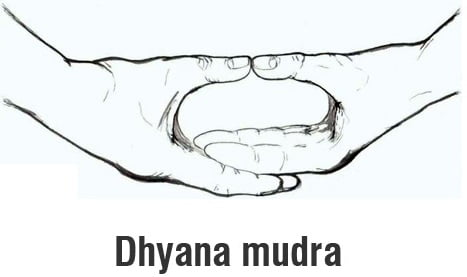 How many minutes should meditation last and when should it be done?
As a recommendation, meditations usually last 20 to 30 minutes. As you improve, this can take up to 40 minutes or even an hour. There are monks and spiritual people who can meditate for days. Or we know people who have been contemplative for days, who have been immensus in deep meditation. Naturally, we can't talk about time constraints, but an ideal meditation is between 20 and 30 minutes.
It is worth noting that it is quite difficult to do 20 minutes at the beginning. Even if you set a clock, you might not last this long. Don't push yourself. As you meditate regularly, you will reach 5 minutes, then 10 minutes, then 15 and ultimately 20 minutes. Do not do meditation at once, it is gradually improved over time, remember this. So if it's short, don't lose your enthusiasm.
When I sat down to my first meditation with great excitement, it felt like hours had passed, and when I opened my eyes, I realized it was only 5 minutes. Not only that, my feet were numb, and I couldn't get up for five minutes. I mean, I didn't get much peace the first time, it wasn't productive. But then, as I did, of course, all these problems were behind us. In fact, in your meditations, which sometimes take up to an hour, you even get the feeling that it is as short as a second has passed.
So please don't break your enthusiasm if you can't do it for a long time on our first time, don't say you can't make it, most of us can barely stay in a meditative position for 5 minutes at the beginning. In time, as I said, it increases to higher time limits.
Suddenly meditation doesn't happen, you learn to meditate constantly, and that's a learning, please remember. Continuity is very, very important. It is important to meditate regularly every day.
Meditation: Emptying the Mind
The basis of meditation, as we say, is to empty and purify the mind. Because an arverted mind can only achieve ultimate peace and awareness. The arliousness and peace that will occur during meditation will save you from all the worldly stress, beyond that it will add small realizations and deeper awareness in life.
Various methods for meditation have been developed. All of these methods have one purpose; empty the mind. Although there are many different techniques for emptying the mind, I would like to mention the basic techniques that are generally accepted here. The first and second most preferred techniques.
1 – Method of releasing the mind
2 – Breathing concentrate
3 – Focusing on an object and Nature Meditations
4 – Using Mandala
5 – Using a Mantra
Method of freeing the mind
Obviously that's the technique that I started with and successfully applied and loved. After paying attention to all the steps above, sit or lie down in a comfortable but sure not to sleep;
1 – Now first scan your entire body. Start with your head. Focus on all your muscles, your organs. And keep focusing until you get to your toes. So scan your body mentally.
2 – Take a deep breath after the scanning process – and breathe rhythmically and continuously, naturally from now on.
3 – Now release your mind. Don't think about anything, let your mind be an empty container.
4 – At this point, thoughts will attack your mind, thousands of thoughts… Children's problems, situations related to your partner, financial and money issues, life plans… Let them come. You're an empty container, like a guct of water, and all thoughts flow through your mind like water. Do not focus on any thoughts. Just let the thought come and go… It's like a river in your mind, thoughts flowing and going.
5 – Initially you will notice that you are unwittingly focusing on certain thoughts. It's okay, as soon as you notice it, immediately release that thought and continue meditating. Don't try to suppress the thought, just let it flow, it will flow anyway. Don't get stuck in any thoughts.
6 – As soon as you do this for enough time, you can see visions, flying sensations and different feelings, colors. Yes, you're in a semi-trance state now, but that's not your goal yet. Your goal is to clear the mind, let alone all these visions, don't focus on them, don't be fooled by these images. Release them, too.
7 – When you get past them, after a certain time, your mind disappears, purified and, so to speak, you touch your soul, you capture a deep moment of peace and awareness.
8 – When your time is up (you can set a time), take a deep breath and slowly open your eyes and make body movements to stimulate your relaxed body.
Concentration to Breath
This is the same method of releasing the mind, but it is easier because it is difficult to release the mind as it is. We can say that it is the most commonly used method.
1 – Sit or lie down comfortably.
2 – Now slowly focus on your breathing. Focus on your breathing and breathing.
3 – You can count individually in this process, but the number should be limited to 10. So count as one when you breathe, two when you exhale, three when you breathe, four when you exhale, and when you get to it, go back to one.
4 – Focus only on your breathing until you clear the mind. If thoughts come to your mind, as we mentioned earlier, don't dwell on it, let it flow and bring your focus back to your breath.
5 – If you forget the number while counting, start at once again. Don't try to remember.
6 – After a certain period of time, the mind will be disabled while counting and you will reach the spiritual adestialness and deep awareness mentioned above. At this point, you don't have to count anymore. Just keep focusing on your breath, but don't control your breathing.
7 – You are now an observer, do not focus on your breath or anything, stay in that moment of ad. Again, if you experience visions, a sense of flight, release them and don't focus on them. And don't try to stop them, just keep being an observer.
8 – When time is up, open your eyes and move your body by acting physically, as mentioned above.
Focusing on an object and nature meditations
Compared to others, this is also a less used method. The other two are more recommended, as doing it with their eyes closed initially eliminates all other distractions. But they're still used. Especially in ancient times, pagans and shamans meditated through nature.
At this stage, an object or element of nature is needed to focus; It can be a candle, a sea, a lake, a tree, a windy hill, a deep view if you're at the top of the mountain, or a sky lying down.
1 – Follow the same steps and start tracking this object or natural element in the comfortable position.
2 – First review its structure. The sea is its color, its flow, its movements, its descending waves, its exuberance… Candles, on the other hand, are the burning of fire, the movements of the flame, etc…
3 – After you follow the nature of that object or natural element, just focus on that object, just follow that object. Just be observant, nothing personal, but just observe that object, be one with that object.
4 – If your thoughts shift to another topic, release them again. And keep focusing again.
5 – After a certain period of time, all thoughts in your mind will stop, you will go beyond the object and you will move to the meditative position we are talking about. At this point, close your eyes and immerse yourself in this peace.
6 – Open your eyes when time is up and relax your body with bodily movements.
Meditation with Mandala
Mandalas are the secret of the universe shaped by sacred geometry. They are also used in Buddhist methods as a meditation tool and to free the mind. Naturally, they work both ways. Although meditation is usually done with a focus on mandala, sometimes drawing the mandala or painting the drawn mandala is among the meditation techniques performed with the mandala. (Drawing and Painting is more of an active meditation)
The process you will do here is the same as focusing on the object.
1 – First decide on the mandala you will use, for example, this may be the flower of life or yin – it can be yang. It's better if your mandala is simple. Tibetan Mandalas can be too complex to begin with.
2 – Print out this mandala and stick it on the wall in front of you or place it in a spot where you can focus.
3 – Breathe deeply, relax and gently look at the mandala. Do not contract to look, look at the mandala in a natural way, not by squeezing your eyes, but comfortably.
4 – Examine the mandala. First examine all the details, every corner and dive into the mandala… An important point is that you can't do anything about it. do not "think" on the mandala , do not think and judge, just examine. Just be an observer.
5 – Dive further and further, melt inside, and in that moment your mind will go beyond the mandala and your mind will become arny. That's when you meditate again.
Meditation with mantra
This method is useful because when repeating a mantra or chant constantly, after a certain period of time the mind shuts up and again that meditative position is switched. This method is especially present in the imagination. There are two important uses of chants and mantras here;
1 – For energy purposes
2 – To clear the mind
The purpose of energetic mantras and chants is to take advantage of the energetic vibration of that mantra and zigzag rather than the meditative position and to draw the necessary spiritual influences on us. If you are going to meditate, please do not initially choose mantras or chants for energetic purposes.
If it's Sanskrit, "Om" or "om mani padme hum" is good. If you are going to recive Islam, "Allah" is an adequate chant. In other words, very basic and simple words should be used to clear the mind. Another method is to make up the mantra. You can make up a word in your head and mention it just for meditation.
By constantly mentioning the mantra you choose, you will be able to empty the mind after a certain period of time, just like other methods. When you move to a meditative position, drop the chant and mantra, and simply switch to that meditative position. Be an observer again.
Another method similar to making up a mantra is to try to speak in a language you don't know. The goal here is to mislead the mind. When you speak continuously in a language you do not know or even in a made-up language, the mind and subconscious cannot perceive it, and at this point you can still capture that meditative position.
Active Meditation
It's not a technique, but it's another branch of meditation. Active meditation is to empty the mind through an action in life. We are in a society where knitting culture is intense and some people say that "I lose myself knitting, it gives me peace" is exactly what they do. It is to silence and relax the mind in an active action by knitting.
Examples include the arts of writing or fancy writing (calligraphy or shono – Japanese kanji art), painting (you don't necessarily have to have the ability to paint, leave your mind and draw something on paper), singing (especially hymns), playing musical instruments, or tea ceremonies of zen masters. Mandala painting is also a very useful active meditation, especially for children, and it is also a technique applied in patients with cancer. (In this respect, I recommend Helga Fiala's book Mandala.) Beyond that, traditional yoga methods are intertwined with meditations and are excellent methods for active meditation.
Active meditation has no limits, the purpose here is to place your sitting meditation into life and to always be in a meditative position when flowing with life. In this respect, washing dishes and even daily tasks are a tool for meditation for zen tradition.
Anyway, as you meditate, the time to enter the meditative position will be reduced. (That's why the meditation period will be extended. Meditative position is that moment when the mind is ardiac, semi-trans. When you get to this state, you can stay meditating for minutes, hours, as you rise to the size of timelessness.) Initially, you will be able to enter the meditative position in the first 5 minutes as you meditatively meditative, even though you are in the moment of silencing the mind. When you get to this position, you can meditate anytime, anywhere, any way. Even when you walk, you become meditating. Of course, my advice to you is to enter a meditative position in reliable environments. Or what happened to me could happen to you, too; When you move to a standing position on the bus, the bus door may hit you as well as me.
Meditation becomes a part of your life from this point on, and after that you can switch to vision studies.
Vision and Contemplation
Once you've learned to empty the basic mind, you can meditate on a certain image. All kinds of different techniques are meditations based on images. In order to make them, it is important to learn to empty the mind. Because as you empty the mind, you start to learn to channel the mind to a single point, which gives you the ability to concentrate. Remember, wherever the mind focuses, energy flows there. Naturally, it is essential to be able to control the mind before it can control energy.
From this point on, you can contemplate a topic, i.e. meditate. When you clear your mind by focusing on a subject that contains secrets, the mental confusion disappears, when the mind disappears, only the inner voice of the soul and soul remains, and with the guidance of this inner voice, you can know the secret of that event.
Do not give up!
Trying to clear the mind can be quite challenging in any way. We don't learn to manage the mind when we're already being raised, so most of us are under the command of the mind. A lot of thoughts exist in our brains beyond our control. Now you are trying to reverse something that has happened so far and to take control of the mind in flow with a "passive" action.
Naturally, you may struggle at the beginning, you may lose concentration very often. Please do not give up in this process, even very often, without giving up, without giving up, release your thoughts and bring your concentration back to emptying your mind or the method you apply (breath, object, etc.).
There's no such thing as "I can't clear my mind, I can't do it, I can't focus" or "this isn't my production." Rest assured that over time, the more you meditate frequently, the more comfortable you will be able to clear the mind. If you do it regularly, you will know in at least 2 –3 weeks, only patience and stability… If you're really patient, you'll realize how easy it is over time, I can guarantee that.
The importance of meditation
As we mentioned, meditation is very important to get away from the stresses of life and especially to raise awareness. The mind learns to control the mind, not you, and most importantly, your concentration increases, which allows you to succeed in every field. Meditation is proven not only spiritually but also scientifically…
All spiritual pathways are necessarily meditating. There is no spiritual tradition without meditation. Because that's the only way to get spiritual ascent. The technique of meditation changes, its method and name change, it becomes weak, it becomes contemplative, it gets different names, but its essence and purpose are the same. During meditation, the semi-trans state is entered, which is the way of contacting the inner self directly, the part of the inner self that comes into contact with the universe. As such, meditation is a way of touching universal consciousness. To learn to silence the mind is to learn to listen to the inner voice, the voice of the soul. As we've emphasized before, "To pray is to ask God, and meditation is to listen to the answer." The path to enlightenment is through meditation.